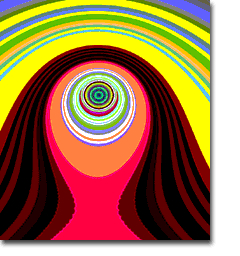 Applications in Art & Design
Designs are suitable for every surface...
Posters
Greeting Cards
Carpets
Floor Covering
Upholstery Fabrics
Tapestry
Ceramic
Apparel Textile
Wallcoverings
Tabletops
Window Treatments
Home Apparel
Decorative Fabrics
Giftwraps
Giftwarep
...and much more.
Applications in Education
Polynomiography is a fantastic tool for education at all levels, from children to college level students. More information on these applications will be made available at a future time here.
An example of polynomiography used to enhance education can be seen in the mini-movies of "Polynomiography in Motion" created by college student Lea Koussoulis.