DO YOU KNOW ABOUT POLYNOMIOGRAPHY?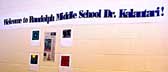 This winter, the Star Ledgernewspaper ran an article about Dr. Bahman Kalantari and his use of mathematical polynomials to create art. Mrs. Altamura spotted the article and read brought it to her Team 8-2 Period 4 algebra students. The students expressed an interest to know more about polynomiography, so one of them, Elizabeth Sergison, e-mailed Dr. Kalantari to learn more about his program. Dr. Kalantari, a computer scientist who teaches at Rutgers, replied. After some correspondence, Dr. Kalantari was invited to speak at a Randolph Middle School assembly.
During an informal algebra classroom reception held before the eighth grade assembly, Dr. Kalantari revealed that he had always wanted to paint. He spent 12 years honing software that can be used to create patterns and designs based on mathematical input. If polynomials are entered into the software, it can generate a picture that the user can also color and manipulate at will.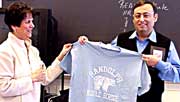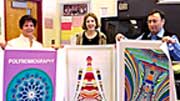 Mrs. Carol Ann Altamura thanked Dr. Kalantari for the "excitement brought to this group. We have been looking forward to Dr. Kalantari's visit." Mrs. Altamura presented the mathematician with a Randolph Middle School t-shirt and framed photograph of the algebra class, saying that Dr. Kalantri was now "an honorary member of Randolph Middle School." In return, Dr. Kalantari presented large posters of some of his artwork.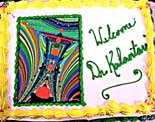 Mrs. Sandy Sergison, Elizabeth's mother, served refreshment, including a beautiful cake that was decorated with a miniature copy of one of Dr. Kalantari's paintings.
The mathematician then spoke to the entire eighth grade in the auditorium, discussing his program and showing some of his artwork. Dr. Kalantari combined the words "polynomial" and "graphics" to form the "new" word to describe his "invention". An individual image is defined to be a "polynomiograph". He has even created a picture of "Miss Poly" to demonstrate the software's ability. Dr. Kalantari hopes to bring his software to schools so that students can learn about the beauty and strength of math and its connection to art. He says that his software has artistic, mathematical, scientific and commercial applications.
In conclusion, Dr. Kalantari told the audience that they are lucky to be able to attend such a good middle and high school, and he urged them to take advantage of all they could learn. Dr. Kalantarai came to the United States after completing his own high school education in his native Iran.
| | |
| --- | --- |
| | Standing in front of the computer-generated welcome sign and newspaper article about him, Dr. Kalantari poses with some members of Mrs. Altamura's algebra class. |